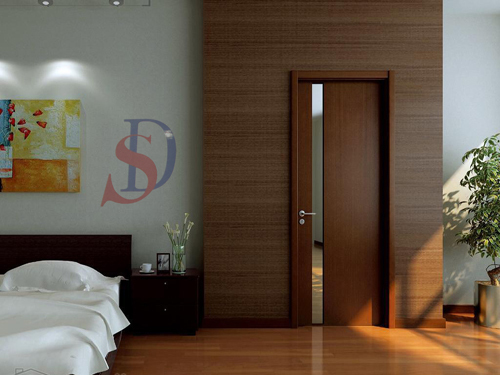 Nowadays, all kinds of pressures are very great, because now we are faced with a phenomenon that everyone sells products that are similar. Both in terms of appearance and role, the similarities are high. The use of professional vocabulary to describe homogeneity is serious.

The word innovation is no stranger to everyone. Innovation is the heart, innovation is the driving force, and innovation is the source. The wooden door business has developed in China for many years. From the original single product to now all kinds of wooden doors, it can be said that the wooden door business is very mature in the development of our country.

Today, it is a market dominated by consumers. People's lives become richer, and the level of aesthetics continues to rise. The degree of innovation of enterprises determines the future prospects and status of their future development.

Innovation is the driving force for the development of enterprises, and it is also a source of vitality for enterprises. Who can carry out technological innovation, who will be able to seize market opportunities. All along, innovation is the eternal philosophy, inexhaustible motive force and source of progress for wooden doors companies, which has driven the development and growth of wooden doors.

In the wooden door industry where homogenized products are emerging in an endless stream, technological innovation is a crucial development path for the wooden door companies. Differentiated products can make enterprises located in the brand forest.

At present, many wooden door brands have realized this and have increased their product technology content. We must know that the selling point of a product needs uniqueness. How to stand out from many brands requires us to use technological innovation to create unique products so that we can maintain our business.

The wooden door industry should also strive to innovate and enhance products, services, and brand values. From the perspectives of consumers, transporters, and agents, the products should be made to the extreme, and they should pay attention to advancing with the times, changing and changing. "Subvert Innovation" continues to advance.

The real-time changes in the industry dynamics and market environment require that the wooden doors enterprises can not give up on innovation, we must carry out innovation in the end.
Silver Masterbatch was used High concentration of pigment,it has excellent dispersion, good heat-resistant, high color fastness, stable performance and shows bright color,Non-toxic, environmental-friendly,compatible with various material PE/PP/PS/ABS etc.
Wide application:
blow moulding, blowing film, injection moulding, extrusion, spin-dyeing, cable sheathing Range of industrial
application:
office automation, household appliances, film and packing material, textile, sheet, pipe, medical appliances, toys and so on.
Andvantage:
1,High pigment concentration.
2,Excellent pigment dispersion and high surface gloss.
3,Excellent heat stability.
4,RoHS certificate.
5.Low Price.
Universal Silver Masterbatch Granules
Universal Silver Masterbatch Granules,Silver Masterbatch For Universal Use,Silver Masterbatch For Universal Plastic,Universal Silver Color Masterbatch
Cai Jian Plastic Product Co., Ltd. , http://www.caijianmasterbatch.com