Place of Origin:
China (Mainland)
Usage:
Camping, Hunting, Fishing, Climbing, Self-Defense
Power Source:
Rechargeable Battery
Certification:
CE, RoHS, SGS
Transport Package:
Boxpacking
Specification:
L460mm*D33mm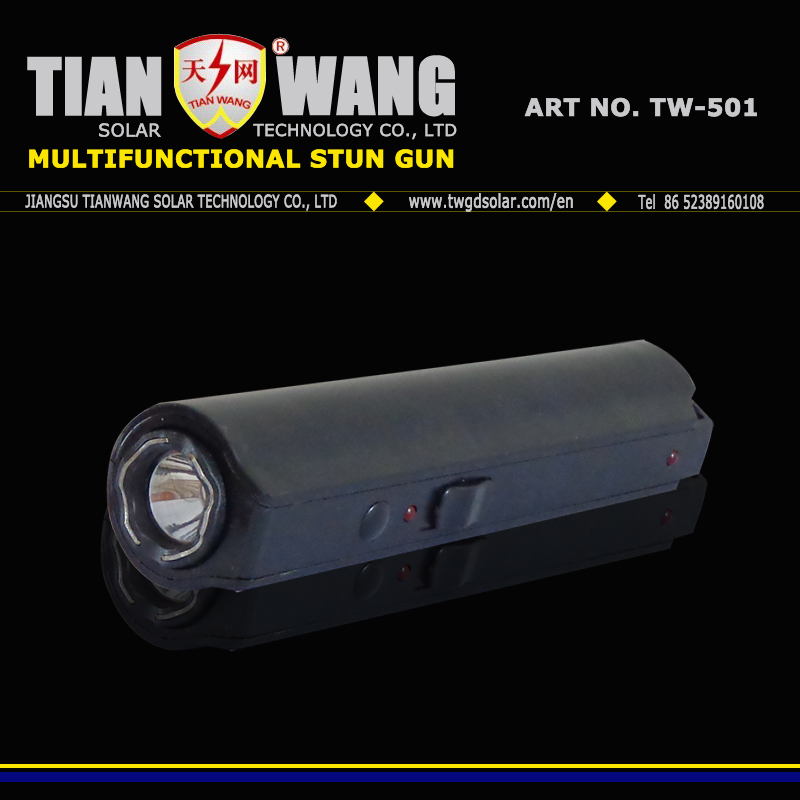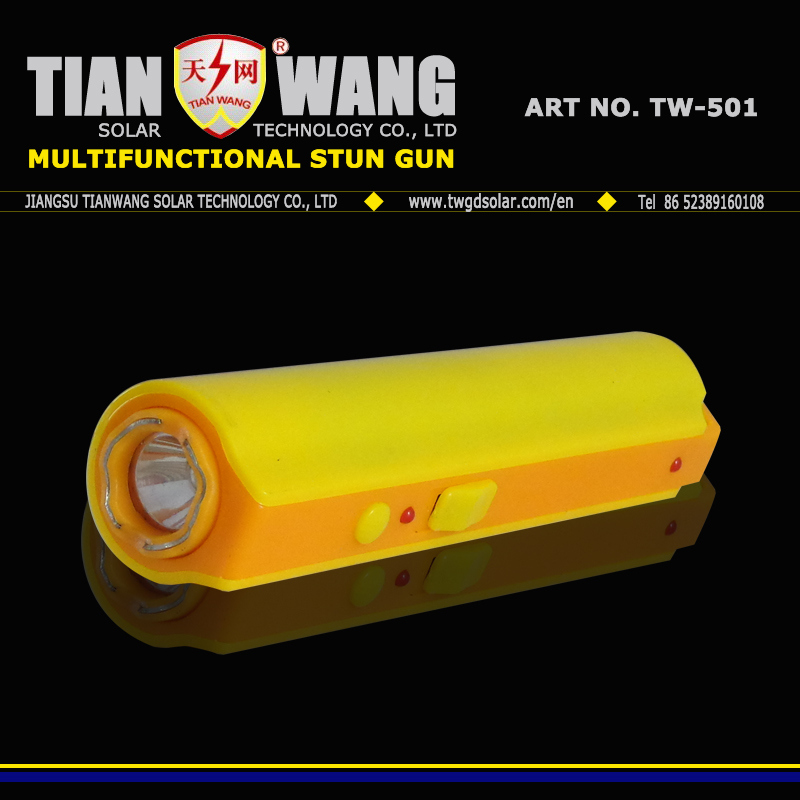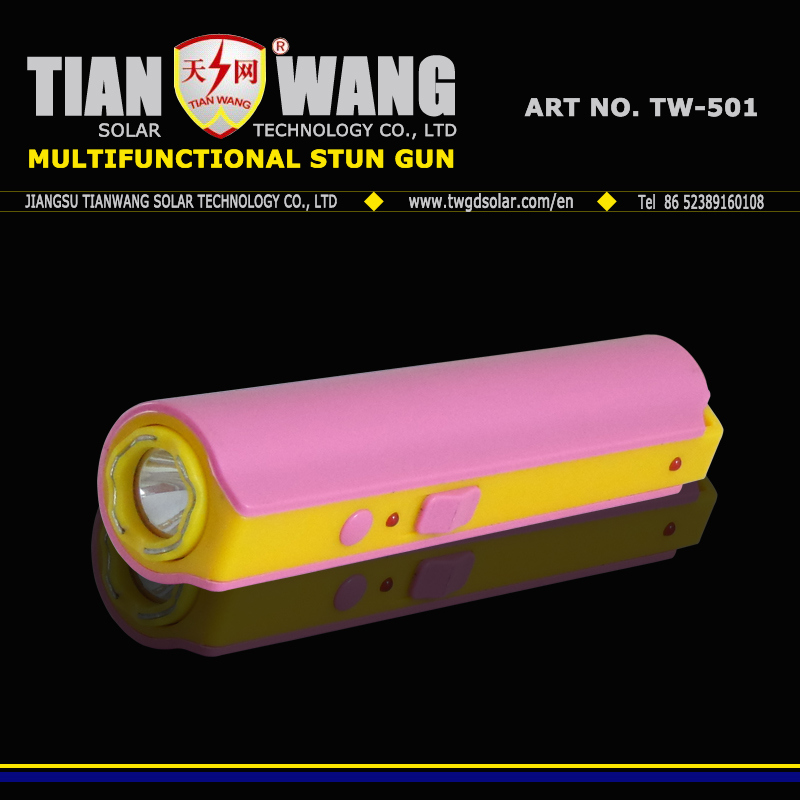 The new developed TW-501 stun gun is characterized by the following features:
Adopting high-frequency oscillation circuit, ensure high-capacity direct current output.
Using high voltage circuit sealed in epoxy resin, shockproof and dampproof.
Ideal self-defense function with large output current.
High power ultra bright LED light, helpful in the dark.
Firm ABS shell, durable to use.
Fresh and delicate design, popular around the world.
Rechargeable battery installed, convenient to charge.
Specification:
1. Source voltage: 3.6VDC
2. Current capacity: ≥ 2.0A
3. Output pulse voltage: >300kv
4. Weight: 88g
5. Size: L128mm× Maximum diameter 30mm
  Specification:
1. Source voltage: 3.6VDC
2. Current capacity: ≥2.0A
3. Output pulse voltage: >300kv
4. Weight: 88g
5. Size: L128mm×Maximum diameter 30mm
Recharging
1. The rechargeable batteries are already installed. Please do not attempt to open the unit, as this will not work.
2. We recommend charging the stun gun for 6-8 hours before it is used. Simply plug the charging cord into the bottom of the unit and into a standard outlet.
Using the Flashlight
With the ON/OFF Switch in the ON position, slide the Safety Switch to the middle position and the LED flashlight will come on. Note: the stun gun will not work with the LED flashlight on.
Using the Stun Gun in Self Defense
1. With the ON/OFF Switch in the ON position and the Safety Switch in the top position, touch your assailant's body with the contact probes and press the Stun Activation Button.
2. Touching anywhere on the assailant's body will have an effect. However, the maximum effect is achieved in the areas shown to the right:
Description:
TW-501 really packs a punch! Just test firing this unit into the air is often enough to stop an attacker. As the bright electric current pulsates between the test prongs and creats an intimidating electrical sound, an attacker with any sense at all will be stopped in his tracks If the sight and sound doesn't stop him, a jolt from this stun gun certainly will bring an attacker down! When an attacker is touched by the stun gun it will disrupt the message the barin sends to the voluntary muscles. Simply touching an attacker will deliver a high voltage shock causing loss of balance and muscle control, confusion, and disorientation bringing him to his knees and making him incapable of further aggressive activity. Due to restrictions in some countries and regions, the customer is responsible for proper use, storge and knowledge of local laws and regulations regarding ownership and usage of this product.
Our service
OEM is available.
Box can be produced as buyer's requirement.
If  you want to know more products of ours,please visit our showroom:
http://alicestungun.en.made-in-china.com/
Or our website:
www.twgdsolar.com/en
Looking forward to your inquiry.
Pendant Light
This stylish pendant light of LEDER technology hanging lantern provides form and function over your kitchen island or entryway.A simple geometric shade made from metal gives it an open look, while its neutral black finish allows it to blend in with a variety of color palettes.
This one-light indoor pendant light offered in a burnt sienna, dark weathered gray or brushed nickel finish is the ultimate in industrial chic, with a warehouse look in a sleek and subtle profile. The over-scaled proportions make it an impact focal point for the best task light fixture, whether installed as a single pendant or in multiples.Best of all, this light works with any dimmer switch, allowing you to change up the lighting from breakfast to dinner.
Features:
• The appearance is exquisite and beautiful
• Retro and Elegant Design
• The price is satisfactory
• Energy saving save electricity
• Installation is simple
• Color temperature :3000k-6000K
• Wide range of application
• Type of protection: IP20
• Warranty for bulbs :2 years
Fusing function and elegance, this pendant light brings decoration and illumination to your interior space. The decorative slots added some clean and simple lines to its cylinder design. Hanging it in your living room, kitchen, and island for a touch of contemporary and artful appeal.
We have rich production experience in lighting.Except Decoration Lighting , we also offered other product in Indoor Lighting .Such as :
LED Panel Light , Track Light , Linear Light ,Wall Light , LED Strip Light , LED Tube Light , Cabinet Light , LED Bulb , LED Ceiling Light as so on .
Classic Pendant Light,Led Pendant Lighting,Led Hanging Light,Lowes Pendant Lights
JIANGMEN LEDERLIGHT LIGHTING Co.,LTD , https://www.walllightindoor.com