Model NO.:

ES-5010OSD

Anti-theft Alarm System Approach:

Passive

Anti-Theft Alarm System-Wide:

Wire Alarm Detectors

Types of Smoke Detectors:

Photoelectric Smoke Style

Infrared Sensor Installation:

Embedded Wall

Mounted Way:

Ceiling Mounted

Operation Voltage:

9-35V

Dimension:

D104*51mm

OEM:

Available

Sensor:

Photoelectric Sensor

Trademark:

Ease Security

Specification:

Suitable to use all over the world

HS Code:

8531901000
Type:

Smoke Detectors

Anti-Theft Alarm System Type:

Infrared Alarm

Anti-Theft Alarm System Distance:

Common Detectors

Infrared Sensor Probe Type:

Infrared Temperature Sensor

Combustible Gas Detector Model:

Es-300/FL

Detector Type:

4 Wire or 2 Wire Type Optional

Alarm Output:

Remote LED Indicator (Relay Output Optional)

Color:

White

Packing:

Color Box

Ce:

Approved

Transport Package:

60PCS/Carton

Origin:

China
Item Name
Wired Photoelectric Smoke Alarm for Fire (ES-5010OSD)
Main Features
Voltage: non-polar input:DC 9V~35V; Â  Â  Â  Â  Â  Â 
SMT adopted,high stability;
Anti-RFI,Dustproof,mothproof and anti-light interference design; Â  Â  Â  Â  Â  Â  Â  Â  Â  Â  Â  Â  Â  Â  Â  Â  Â  Â Â 
MCU processing adopted,eliminate false alarm;
Remote LED indicator. Â  Â  Â  Â  Â  Â  Â  Â  Â  Â 
Power-off reset. Â  Â  Â  Â  Â  Â  Â  Â  Â  Â  Â  Â  Â  Â  Â  Â  Â  Â  Â  Â  Â  Â  Â  Â  Â  Â  Â  Â  Â  Â  Â  Â  Â  Â  Â  Â  Â  Â  Â  Â  Â  Â  Â 
detection sensitivity:2.06%/ft                   
Dimension: Φ104*51mm . 
Technical Specification
Can work without study code,DC power supply can be connected directly.When it is working, the working LED flash;when it is alarm ing, the alarm LED on. Â 
1:Power off / reset  
2:Infrared photoelectric sensor  
3:Smart Logic Control for reduce false alarm  
4:Net work output / LED alarm  
5:SMT technique for stable  
6:Dust-proof,mothproof,anti-whitelight design
7:Metal shield for anti RFI (20V/m 10MHz~1GHz)
2 Wire Smoke Detector Connection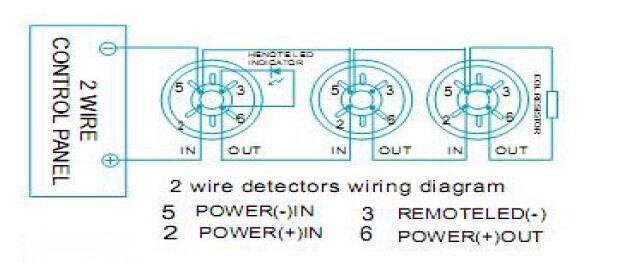 4 Wire Smoke Detector Connection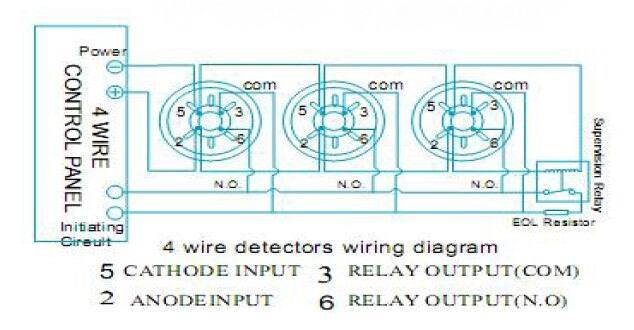 Installation Base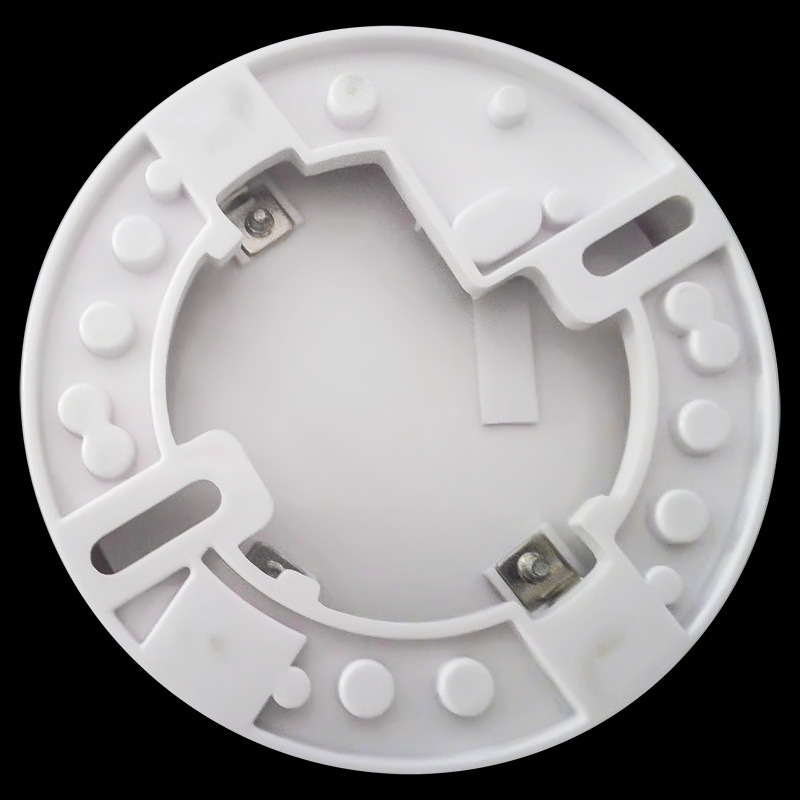 Side Look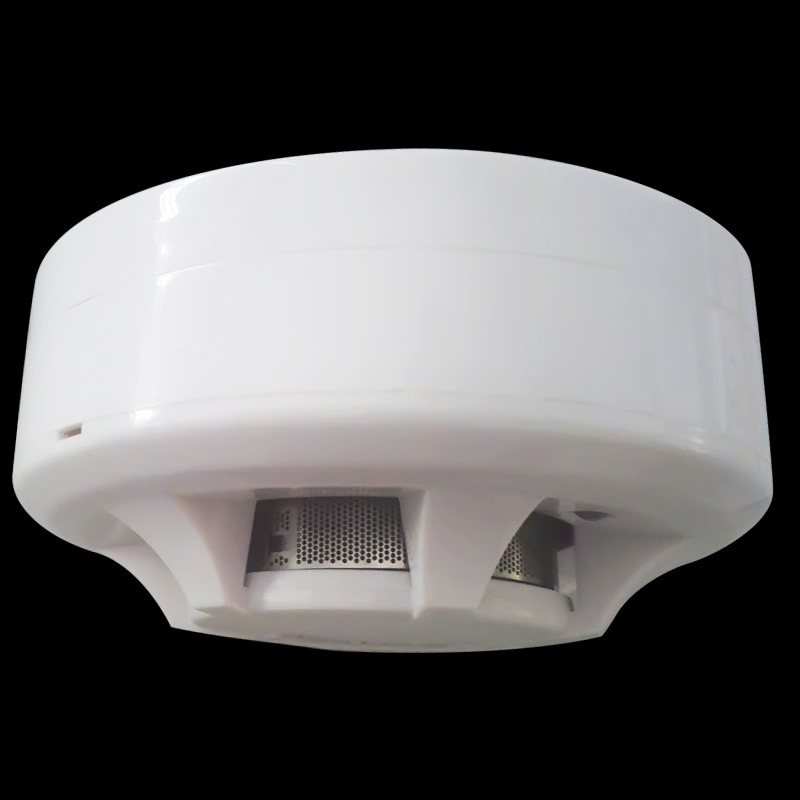 Can WOrk WithFire Alarm Panel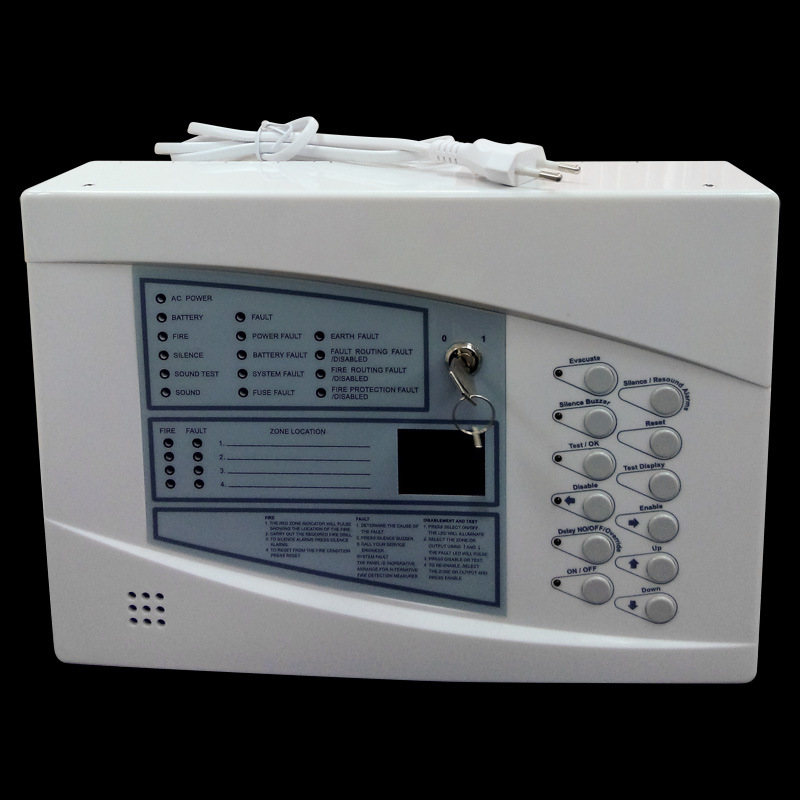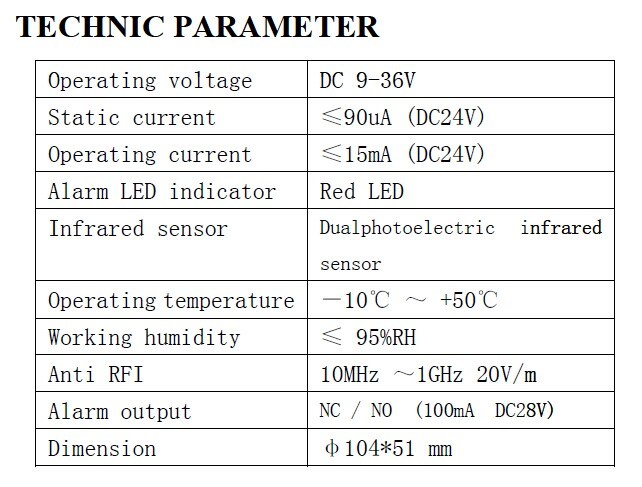 Product Introduction
This product named Photoelectric detector detects the smoke by a couple of infrared diodes. The principle of detecting is granule in the smoke can reflect infrared light. Infrared diodes are placed in the special chamber. The chamber can shield external light, but don't affect the smoke into it. While have no smoke, the diode can receive very weak infrared light. When the smoke entering the chamber, diode can receive more and more light, when the smoke attains the certain density, the detector can give out alarm signal. In order to reduce the interference and lower power consumption, the emitting circuit adopts the pulse signal. The detector adopts the special structure design and ASIC, has the dustproof, mothproof and anti outside light interference feature etc. The detector is suitable for detect the smoke in house, shop, hotel, restaurant, office building, school, bank, library, computer house and storehouse etc.
 
| | | |
| --- | --- | --- |
| Type | Output | Power |
| 4 Wire | Relay Output | 9-35V dc |
| 2 Wire | Remote LED Indicator | 9-35V dc |
| Wireless | RF signal | 9V battery |
SanYin are professional for Shower Hose and braided hose, more than 10 years experience.we have 2 pcs production line for shower hose, and 1pcs for braided hose. 90% products export and 10% for local market. The main market is Poland, France, Italy,Germany, Russia,Turkey. U.K, U.S.A and so on.
Length: 15cm,20cm,25cm,30cm,50cm
Material: stainless steel 201/304/Aluminum
Nut size: F1/2"XF1/2"
Nut material: brass/stainless/zinc/plastic
Core: brass/stainless steel/nylon
Inner tube: EPDM/PVC
Original: Yuyao,Zhejiang
Pacakge:polybag/double blister/color box
Braided Hose
Braided Hose,Plastic Abs Faucet,Braided Metal Hose,Braided Flexible Hose
Yuyao Sanyin Sanitation Factory , http://www.chinasanyin.com