As the world's largest home building materials supermarket, Home Depot suddenly closed all its stores in China a week ago, which made all employees, suppliers and consumers in Zhengzhou store unprepared. Yesterday, Home Depot China reopened the store door, not for business, but for customer returns. In an interview with reporters, Home Depot China News spokesperson Xiao Xiaofei said that for the aftermath of the supplier, the national service hotline was opened yesterday and they began to accept their demands. When the consumer arrived at the scene at 6 o'clock in the morning, there were already consumers and suppliers who came to Jia Debao Plaza in Zhengzhou Agricultural Road and Jingsan Road intersection, waiting for Home Depot to open the door to deal with the aftermath. According to consumers, someone rushed to the scene at 6 o'clock in the morning to wait. The third-party security company hired by the former Depot was finally seen. It took over the security of the storefront and continued to use the shelves as a fence to guard the entrance of the mall. The store also posted a notice at the door, saying: "Business hours" is 10:00~15:00, but "no longer sells goods, only customers who have previously had a transaction at Home Depot, and customers need tickets to enter." In fact, not only do you need to sell the bills, you also need to pick up the small ticket from the security guard at the door. As of 9:40 am, 200 has been issued. Due to the large number of customers, many customers who did not grab the number gradually became anxious. However, there was no Home Depot staff to explain and emotionally guide the entrance to the mall. An elderly customer who came from Shandong said that he had arrived in the train for 9 hours. It was already 9 o'clock at the scene. He couldn't get the number plate. He could only lie on the side of the road and watch others queue up to solve the problem. . As consumer sentiment became more and more exciting, security personnel had to issue the number again at 11 o'clock. In fact, even the customer who received the number can't immediately enter the field to solve the problem. "Every time you only get 10 people, you can only turn me when you are!" A consumer who was ranked more than 200 times complained, "I don't tell how many people can solve the problem today, let us be here, etc. It is your turn to be absent, and you have to re-arrange." At 11:40 in the morning, the 50th customer was called by the security guard. Customers began to complain that the efficiency was too low. There are also security guards who advise customers not to be too anxious because the notice says "this aftermath lasts for three months." But some consumers are worried, "If you handle it late, don't have that much money?" I hope that my business will be dealt with as soon as possible. At the scene, only the consumer return supplier can receive the hotline to appeal to the home of Zhengde store in yesterday, and only deal with the customer's related issues, and the supplier and other partners should rely on the latter. Jia Debao China News spokesperson Xiao Xiaofei said in an interview with Henan Business Daily yesterday: "The handling model for suppliers is basically the same as the solution for consumers. The hotline will be opened first, and then processed on site. We are from today (21st) At the beginning, the supplier's after-sales service hotline is opened. They can call the hotline to express their appeals. We will record them one by one, and then classify and count these problems to determine how to deal with different situations." Xiao Xiaofei also said : "We will also actively contact with suppliers, and our official website will also announce relevant information to you in a timely manner." As for Home Depot employees, Miao Xiaofei said that it is being carried out according to the individual's performance years and the different situations of each individual. One-on-one friendly consultations, each reaching a resignation agreement, "Some employees may reach an agreement within one day, and some employees may have two days, we are talking to employees." Swipe customers can not get on the spot Refunds Some consumers who have handled the return business told reporters that they did not handle it. smoothly. Some consumers complain that they must provide a gift when they pay for the purchase, but some customers have already used, consumed, or lost the previous purchase coupon. A customer who has already received a partial refund of the order said that part of the cash he had paid before had been returned, but the part paid by the UnionPay card, the store said that it would take another week to get the account. There are also customer feedback after consultation: "Some say it takes about a week to arrive, and some say it is within a month, and I don't know how long it is." The off-site customers who heard this statement expressed their anxiety. A customer who bought a tile (renovation effect picture) said: "I have already had more than 30,000 yuan of tiles to be retired. I have already finished the formalities before they close the door, but the payment has not yet arrived. Check UnionPay The serial number is not found at all." Some customers worry that if they do not receive cash, they will not be able to get the money. In this regard, Home Depot China News spokesperson Xiao Xiaofei said: "Jia Debao has closed these stores, but has not withdrawn from the Chinese market, but has turned to a new business direction, so we will protect the interests of consumers. Deal with the aftermath." At the scene, there are some customers who are unwilling to return the money, but hope to continue to perform the contract. "I have renovated half of the things, where do I buy the same goods? If I change temporarily, will the original decoration be removed?" Xiao Xiaofei responded: "Before our contract with consumers, we will continue to perform." To fulfill, of course, consumers may have various considerations and choices. In the end, they will negotiate through friendly negotiations. If you want to continue to pick up the goods, you can also mention them. If you want to refund the deposit, you can negotiate."
Information from GO Jiaju, want to know more home textile information, home information, furniture information, home decoration information, building materials information Welcome to the GO Jiaju official website.
GO Jiaju Brand Pavilion officially launched, more brand home textiles, brand home, brand furniture, more solid wood furniture brands, American furniture brands, Jane European furniture brands for you to choose, brand discount, brand promotion, brand sale network help You save the province again. Don't want to go out? It doesn't matter, 720 ° Experience Hall, 3D Experience Hall, 3D Panorama Network allows you to move around your finger at home. There is also the latest furniture information of Suzhou Furniture Expo Center, so that you can always know. When you buy furniture, you will come to GO .
Acrylic Impact Modifier is a core-shell type of copolymer consisted of rubbery core (Butyl acrylate) and glass shell which is compatible with PVC, rubbery core transfers the external impact energy into heat and grafted shell provides perfect compatibility of Impact Modifier with PVC matrix, therefore it shows excellent impact-strength, weather-resistance and color durability under long-period exposure to outdoor conditions.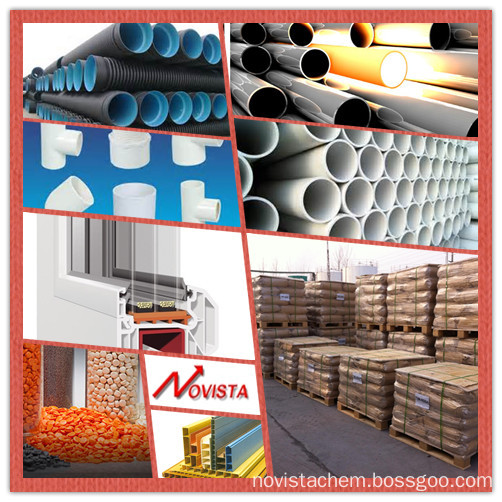 Acrylic Impact Modifier
Acrylic Impact Modifier, Transparent Acrylic Impact Modifier, Acrylic Impact Modifier PVC, Opaque Acrylic Impact Modifier
Shandong Novista Chemicals Co.,Ltd (Novista Group) , https://www.novistachem.com