The factory was set up in 1958. Registered ZHEJIANG WANSHENG YUNHE STEEL CABLE CO., LTD in 2006. Nowadays it has became an enterprise which specially produce brand "Yunhe" metal product series in metallurgical industry. Also it is national key supporting hightech enterprise. We now have a registered capital of 200 million RMB and covering an area of 30 thousand  square meters. Our company has attained ISO9001 quality management system certification and ISO 14001 quality system certification.
We are well recognized and praised by numerous customers both home and abroad because of our first-class quality, in-time delivery and high-efficiency service.





 
Zinc coated steel wire strand
suitable for hanger,hang,communication cable,the power line for built on stillsand,and fixing or binding things
In (mm)
Dia
No of wire
In (mm)
Wire Dia
Weight lb/1000ft
(kg/km)
Common Grade lbf (KN)
Siemens Martin
Grade  
lbf (KN)
High Strength
Grade
 lbf (KN)
Extra High Strength Grade
 lbf (KN)
1/8 (3.18)
7
0.041 (1.04)
32(48)
540 (2.402)
910 (4.048)
1330 (5.916)
1830 (8.140)
5/32 (3.97)
7
0.052 (1.32)
51 (76)
870 (3.870)
1470 (6.539)
2140 (9.519)
2940 (13.078)
3/16 (4.76)
7
0.062 (1.57)
73 (109)
1150 (5.115)
1900 (8.452)
2850 (12.677)
3990 (17.748)
7/32 (5.56)
3
0.104 (2.64)
88 (131)
1400 (6.228)
2340 (10.409)
3500 (15.569)
4900 (21.796)
7/32 (5.56)
7
0.072 (1.83)
98 (146)
1540 (6.850)
2560 (11.387)
3850 (17.126)
5400 (24.020)
1/4 (6.35)
3
0.120 (3.05)
117 (174)
1860 (8.274)
3040 (13.523)
4730 (21.040)
6740 (29.981)
1/4 (6.35)
7
0.08 (2.03)
121 (180)
1900 (8.452)
3150 (14.012)
4750 (21.129)
6650 (29.581)
9/32 (7.14)
3
0.130 (3.30)
137 (204)
2080 (9.252)
3380 (15.035)
5260 (23.398)
7500 (33.362)
9/32 (7.14)
7
0.093 (2.36)
164 (244)
2570 (11.432)
4250 (18.905)
6400 (28.469)
8950 (39.812)
5/16 (7.94)
3
0.145 (3.68)
171 (255)
2490 (11.076)
4090 (18.193)
6350 (28.246)
9100 (40.479)
5/16 (7.94)
7
0.104 (2.64)
205 (305)
3200(14.234)
5350 (23.798)
8000 (35.586)
11200 (49.820)
3/8 (9.52)
3
0.165 (4.19)
220 (328)
3330 (14.813)
5569 (24.732)
8360 (37.187)
11800 (52.489)
3/8 (9.52)
7
0.120 (3.05)
273 (407)
4250 (18.905)
6950 (30.915)
10800 (48.040)
15400 (68.503)
7/16 (11.11)
7
0.145 (3.68)
399 (595)
5700 (25.355)
9350 (41.591)
14500 (64.499)
20800 (92.523)
9/16 (14.29)
7
0.188 (4.78)
671 (1000)
9600 (42.703)
15700 (69.837)
24500 (108.981)
35000 (155.688)
9/16 (14.29)
19
0.113 (2.87)
637 (949)
9640 (42.881)
16100 (71.616)
24100 (107.202)
33700 (149.905)
5/8 (15.88)
19
0.125 (3.18)
796 (1186)
11000 (49.930)
18100 (80.513)
28100 (124.995)
40200 (178.819)
3/4 (19.05)
19
0.150 (3.81)
1155 (1721)
16000 (71.172)
26200 (116.543)
40800 (181.487)
58300 (259.331)
 
 
 
 
 
 
 
 
 
 
 
 
 
 
 
 
 
 
 
 
 
 
 
 
Rare earth zinc aluminum alloy coated steel wire strand
suitable for hanger,hang,communication cable,the power line for built on stillsand,and fixing or binding things
Con.
Dia. mm
Dia. strand mm
cross-section mm2
Tensile strength,Mpa
weight kg/100m
1170.00Â 
1270.00Â 
1370.00Â 
1470.00Â 
1570.00Â 
Minmium breaking force,KN
1*3
2.90Â 
6.20Â 
19.86Â 
21.33Â 
23.16Â 
24.98Â 
26.80Â 
28.63Â 
15.99Â 
3.20Â 
6.40Â 
24.13Â 
25.97Â 
28.19Â 
30.41Â 
32.63Â 
34.85Â 
19.47Â 
3.50Â 
7.50Â 
28.86Â 
31.06Â 
33.72Â 
36.38Â 
39.03Â 
41.69Â 
23.29Â 
4.00Â 
8.60Â 
37.70Â 
40.58Â 
44.05Â 
47.52Â 
50.99Â 
54.45Â 
30.42Â 
1*7
1.00Â 
3.00Â 
5.50Â 
5.92Â 
6.43Â 
6.93Â 
7.44Â 
7.94Â 
4.37Â 
1.20Â 
3.60Â 
7.92Â 
8.53Â 
9.25Â 
9.98Â 
10.71Â 
11.44Â 
6.29Â 
1.40Â 
4.20Â 
10.78Â 
11.60Â 
12.60Â 
13.59Â 
14.58Â 
15.57Â 
8.56Â 
1.60Â 
4.80Â 
14.07Â 
15.14Â 
16.44Â 
17.73Â 
19.03Â 
20.32Â 
11.17Â 
1.80Â 
5.40Â 
17.81Â 
19.17Â 
20.81Â 
22.45Â 
24.09Â 
25.72Â 
14.14Â 
2.00Â 
6.00Â 
21.99Â 
23.67Â 
25.69Â 
27.72Â 
29.74Â 
31.76Â 
17.46Â 
2.20Â 
6.60Â 
26.60Â 
28.63Â 
31.08Â 
33.53Â 
35.97Â 
38.42Â 
22.77Â 
2.30Â 
6.90Â 
29.08Â 
31.30Â 
33.99Â 
36.65Â 
39.33Â 
42.00Â 
23.09Â 
2.60Â 
7.80Â 
37.17Â 
40.01Â 
43.43Â 
46.85Â 
50.27Â 
53.69Â 
29.51Â 
2.90Â 
8.70Â 
46.24Â 
49.77Â 
54.03Â 
58.28Â 
62.53Â 
66.79Â 
36.71Â 
3.00Â 
9.00Â 
49.48Â 
53.26Â 
57.81Â 
62.36Â 
66.92Â 
71.47Â 
42.37Â 
 
3.20Â 
9.60Â 
56.30Â 
60.60Â 
65.78Â 
70.96Â 
76.14Â 
81.32Â 
44.70Â 
 
3.50Â 
10.50Â 
67.35Â 
72.50Â 
78.69Â 
84.89Â 
91.08Â 
97.28Â 
53.48Â 
 
3.80Â 
11.40Â 
79.39Â 
85.46Â 
92.76Â 
100.10Â 
107.40Â 
114.70Â 
63.04Â 
 
4.00Â 
12.00Â 
87.96Â 
94.68Â 
102.80Â 
110.90Â 
119.00Â 
127.00Â 
69.84Â 
Zinc coated steel wire strand
suitable for hanger,hang,communication cable,the power line for built on stillsand,and fixing or binding things
Con.
Dia. mm
Dia. strand mm
cross-section mm2
Tensile strength,Mpa
weight kg/1000m
1170.00Â 
1270.00Â 
1370.00Â 
1470.00Â 
1570.00Â 
Minmium breaking force,KN
1*19
1.6
8.0
38.20
40.22
43.66
47.10
50.54
53.98
304
1.8
9.0
48.35
50.91
55.26
59.62
63.97
68.32
385
2.0
10.0
59.69
62.85
68.23
73.60
78.97
84.34
475
2.2
11.0
72.20
76.08
82.58
89.00
95.58
102.09
569
2.3
11.5
78.94
83.12
90.23
97.33
104.40
111.50
628
2.6
13.0
100.90
106.20
115.30
124.40
133.50
142.60
803
2.9
14.5
125.50
132.20
143.40
154.70
166.00
177.30
999
3.2
16.0Â 
152.80
160.90
174.70
188.40
202.20
215.90
1220
3.5
17.50Â 
182.80
192.50
208.90
225.40
241.80
258.30
1460
4.00Â 
20.0
238.80
251.50
272.90
294.40
315.90
337.40
1900
1*37
1.6
11.2
74.39
73.98
80.30
86.63
92.95
99.27
595
1.8Â 
12.6
94.15
93.63
101.60
109.60
117.60
125.60
753
2.0Â 
14.0
116.20
115.50
125.40
135.30
145.20
155.10
930
2.3
16.1
153.70
152.90
165.90
179.00
192.00
205.10
1230
2.60Â 
18.2
196.40
195.30
212.00
228.70
245.40
262.10
1570
2.90Â 
20.3
244.40
243.10
263.80
284.60
305.40
326.20
1950
3.20Â 
22.4
297.60
296.00
321.30
346.60
371.90
397.10
2380
 
 
 
 
 
 
 
 
 
 
 
 
 
 
 
 
 
 
 
 
 
 
 
 
 
 
 
 
 
 
 
 
 
 
 
 
 
Plant Support Net and trellis netting provide a sturdy support for climbing fruits and vegetables. This space-saving netting gives climbing plants a place to grow, producing healthier plants, improved yields and more of your valuable garden space.
The plant support net is made of light and strong extruded polypropylene plastic material, which is UV stabilized and weather resistant. The plasitc net gives support to fast growing crops (beans, peas, tomatoes, cucumbers and) and flowers.

The Plant Support Netting can be used vertically and also horizontally.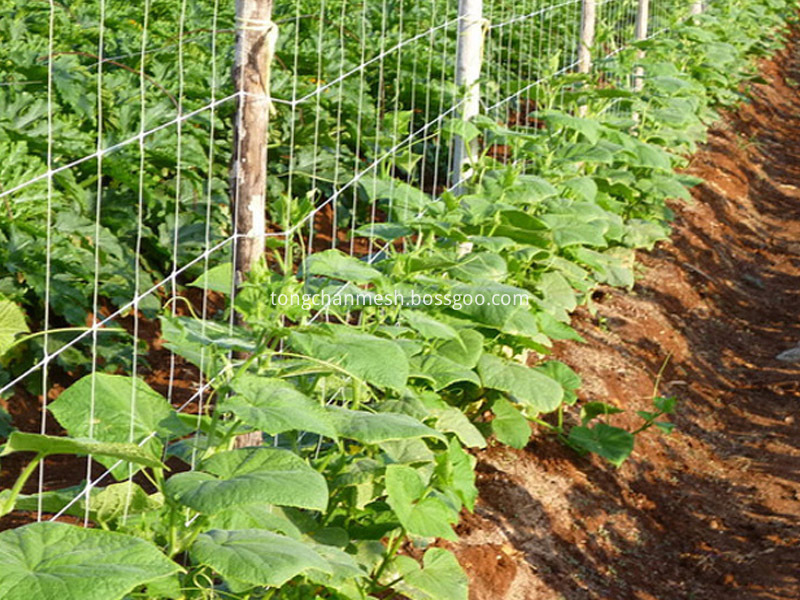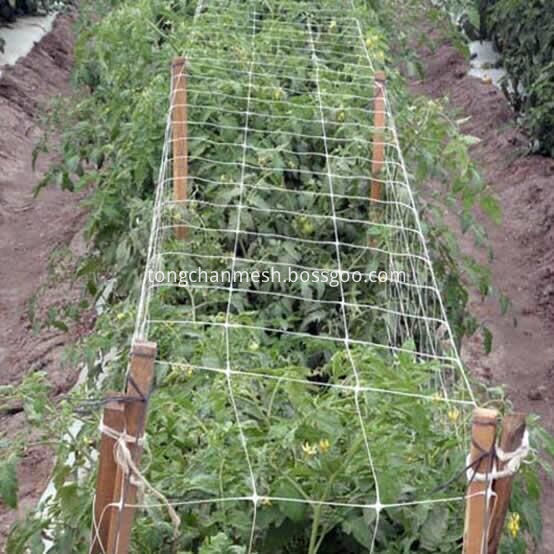 Plant Support Net
Plant Support Netting,Plastic Trelles Net,Pp Plant Support Nets,White Plant Support Net
Hebei TongChan Imp.&Exp.Co., Ltd. , http://www.tongchanmesh.com