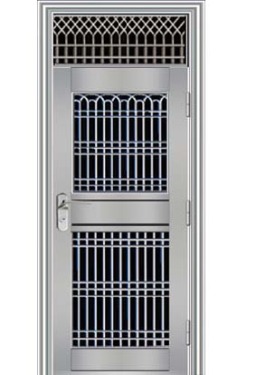 Each home has a security door, but we often see security breaches causing door thefts to be stolen. Then, is your security door safe?
The security doors with qualified locks generally use three-dimensional locks. Not only are the locks locked, but also the upper and lower cross bars can be locked to lock the door. Poor security doors do not have a three-point locking or optional three-point locking structure. And, the real good lock is not the more lock points, the better, 4 lock points and 10, 20 lock points in fact there is no essential difference. Regardless of the number of lock points, the center is on the lock cylinder. As long as the lock cylinder is broken, many more lock points are useless. In general, there are 4 lock points.
The quality of the process should pay special attention to the presence or absence of welding defects such as open welding, unwelded, missing welds, slag inclusions, etc. Look at whether the door leaf and the door frame are compact, whether the gap is uniform, whether the opening is flexible, whether all the joints are dense, and whether the paint plating is uniform and smooth. And, the slightly better quality anti-theft door has a rubber seal embedded in the door frame so that no harsh metal impact noise is generated when the door is closed.
The real anti-theft door must pass the statutory testing agency to pass the standard test, and there is a production security permit issued by the security technical protection department of the provincial public security bureau (bureau) where the production enterprise is located. When purchasing, you should also pay attention to the "FAM" logo, company name, and implementation standards of the security door. The doors that meet the standards can be safe and reliable.
"General technical conditions for anti-theft security doors" stipulates that, within 15 minutes, qualified criminals use portable tools such as chisels, screwdrivers, crowbars, and other hand tools, hand drills, and other portable electric tools. They cannot open or open a 615 square centimeter on the door leaf. The opening, or a 38 square centimeter opening in a half circle of 150 square millimeters of the locking point. The lock used on the security door must be a special anti-theft door lock with anti-drilling function that has passed the detection of the Ministry of Public Security. Security doors can be made of different materials, but only the doors that meet the standard test quality requirements and receive security technology to prevent product production licenses can be called security doors.
Sheet Metal Coil, Aluminum Coil,Prices of Aluminum Sheet Coil
Aluminum Engeering (Ji'nan) Company Ltd. , http://www.sdaluminumcoil.com